ABOUT TURNER UNI-DRIVE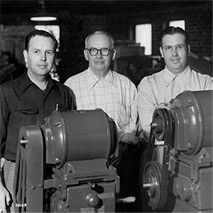 Turner Uni-Drive Company was founded in 1932 by W. Harry Turner, who with two mechanics began a career of rebuilding machine tool equipment in a small shop near the Missouri River in Kansas City, Missouri. In 1935, Mr. Turner developed his first enclosed gearbox. Turner industrial transmissions played an important role in meeting the war effort demand throughout the decade of the 1940's.
Turner Uni-Drive purchased the assets of Michigan Transaxle and Gear in the early 1980's. The product line of Michigan Transaxle and Gear was incorporated into our existing industrial products line and is still supported today.
The company moved to its present facilities early in 1940. Since that time, Turner Uni-Drive has concentrated on original equipment applications, and special industrial transmission designs. Today, the company provides industrial gearboxes used throughout the world. We take pride in the dedication, skill and long-term service of our employees many of whom have been with us 10, 20 and even 30 years. The company is privately held and owner operated.