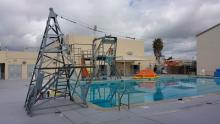 "Marine Corps Air Station Miramar (MCAS Miramar) (IATA: NKX, ICAO: KNKX, FAA LID: NKX), formerly Naval Auxiliary Air Station (NAAS) Miramar and Naval Air Station (NAS) Miramar is a United States Marine Corps installation that is home to the 3rd Marine Aircraft Wing, which is the aviation element of the 1st Marine Expeditionary Force. It is located in Miramar, San Diego, California, about 10 miles (16 km) north of Downtown San Diego."
MCAS Miramar (n.d.). In Wikipedia. Retrieved February 26, 2016, from
https://en.wikipedia.org/wiki/Marine_Corps_Air_Station_Miramar
We never know quite where our gearboxes will turn up. This week we had the pleasure of working with the US Navy where one of our model 2M multi speed gearboxes is being used in a training facility at MCAS Miramar. The gearbox is part of a training platform designed to simulate parachute drag after a water landing for our military and government aviators.
It is our understanding the trainee jumps into the pool and the gearbox drag line is engaged, the trainee is then required to disconnect his harness while being drug across the pool. Various speeds are used to simulate different weather conditions. Our sincere apologies to the trainees.
The parts required by the Navy were shipped out immediately from stock and I spent the rest of the day humming "In the Navy" by the Village People. You are humming it too now aren't you?
Happy Leap Day everyone!