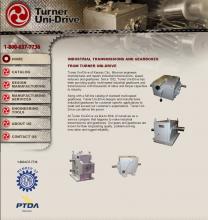 We were kind of fond of that old website but times change and our customers needed more information, faster, in more formats and on more platforms. For the new user, we welcome you. For the old user, we welcome you back.
The broad listing of our catalog gearbox offering is still under the "Catalog", "Product Listing" heading. Our custom gearbox and speed reducer offerings are highlighted more prominently throughout the website to hopefully give everyone an idea of what we can do.
We agonized over each picture and paragraph wondering how it would be perceived by our customers and whether it would tell the whole story. Ultimately, we hope you will call us with your questions and queries. If you don't see quite what you want, it's our fault for not telling the complete story. Give us a call and we'll set it right.
We took care to eliminate distracting typographical errors and provide the most accurate and up to date information in the best possible way. Should you come across an error or if you have any recommendations or suggestions, please let us know.