Housing
Housings are constructed of heavy-duty cast iron or fabricated for maximum rigidity and proper alignment of shafts, gears and bearings.
• Housing covers are not subjected to any transmitted loads.
• Highly corrosion-resistant cast iron material permits outdoor installation without protective covering.
• Large housing surface areas radiate heat to maintain proper operating temperatures.
Shafting
Shafts are made of through-hardened alloy steel and splined for maximum torque transmittal through gearing.
• Keyways conform to ASA standards.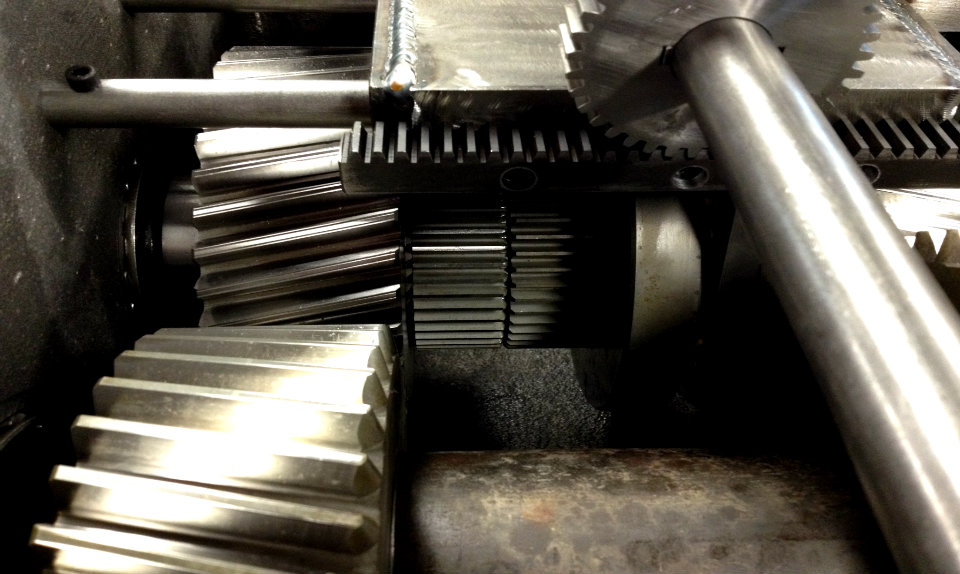 Industrial Gearing
All gearing is case hardened for optimum wear resistance, with pitches selected for maximum strength and finish hobbed or ground for accuracy and quiet running.
• Spur-type gearing is standard, with helical gearing available as an option in applications approved by home office.
• All ratios are in stock for quick handling and prompt delivery of emergency replacement orders.
• Ground gearing is standard on models sized 10M and above and available upon request for smaller models.
Shifting
Rugged internal shifter forks of cast iron or steel are held in position with spring-loaded detents.
• For severe vibration conditions, a positive locking device is available as an option.
Bearings
Heavy Duty tapered roller bearings are used throughout.
• Adjustments are made easily without removing case cover.
Seals
Spring loaded lip-type cartridge seals are used at all shafts extensions, including shifter arms, for maximum insurance against oil leakage and internal oil contamination.
• Magnetic pipe plugs are furnished to assist in removing fine metallic particles from the oil.
Lubrication
For normal mounting, gears and bearings are splash lubricated.
• A sight gauge is supplied for ease of checking proper oil level.
• Specified lubricating oils are readily obtainable.
• Highly efficient air breathers equalize internal and atmospheric pressures.
• A pump-driven circulating oil system is available as an option with or without heat exchanger, to suit special mountings or unusual ambient operating conditions.